KVD Superior Leather Luxury Car Seat Cover FOR MARUTI SUZUKI Vitara Brezza BLACK + CHERRY (WITH 5 YEARS WARRANTY) - D006/58
Rs. 6,399.00

Rs. 6,399.00

Save Rs. 9,598.50
Tax included.
---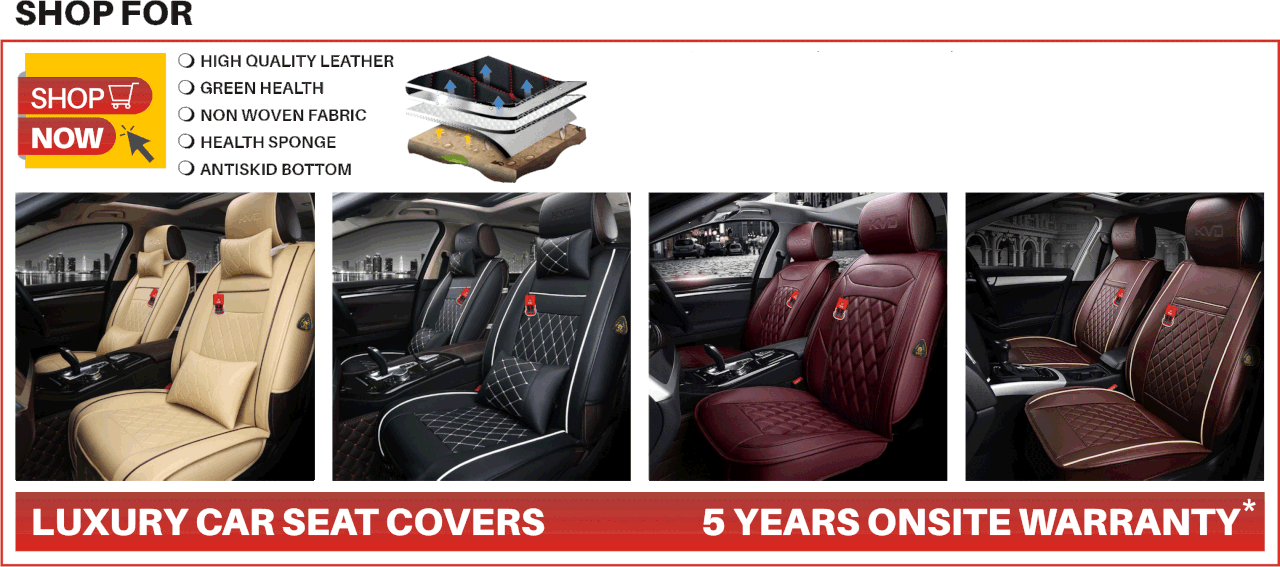 Why Kvd's seat cover.
You know what's sucky about local seat covers largely available in market? They don't fits good as skin on body and there leatherite starting getting feeling off within a year that reminds us of the old painted wall whose paint is feeling off. What fun is that kind of seat cover? We'll answer that: NO FUN AT ALL. You know what is fun? Wearing Kvd seat cover to your car once and be free to change it every year as you're doing currently by purchasing local seat covers because our seat cover lasts years and years without peeling off or colour faiding.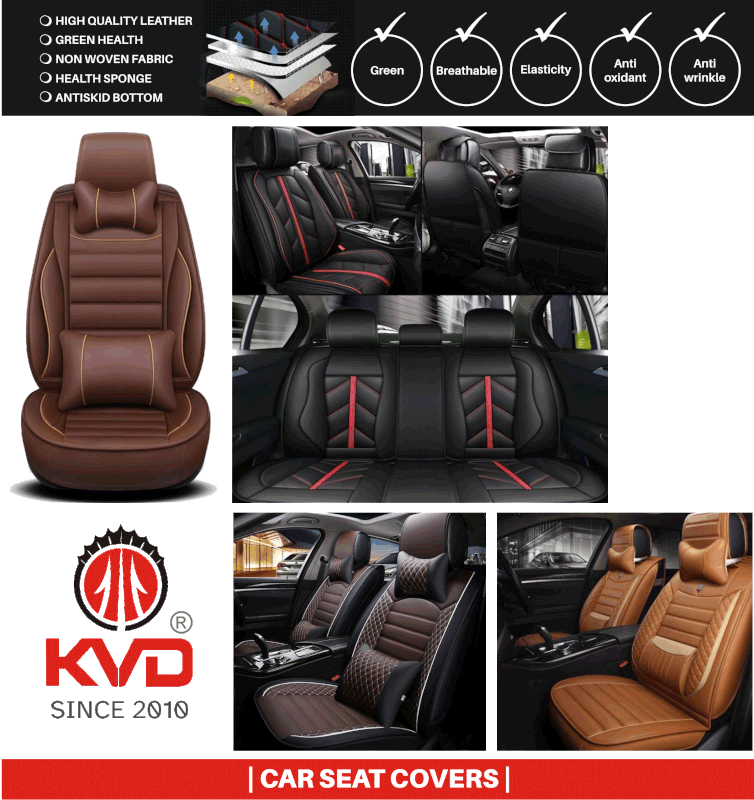 Key Features.
Perfect fit
UV resistant
Tear resistant
Anti fungus
Does not d shape or become loose
Easy to clean and maintain
Termite proof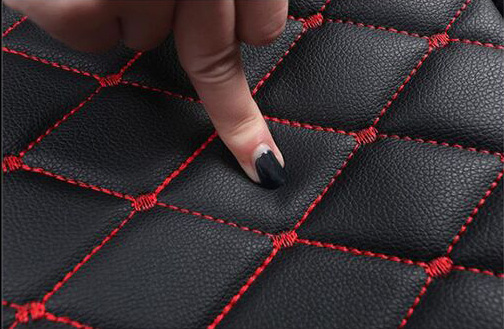 ** 20MM High Density Foam Used **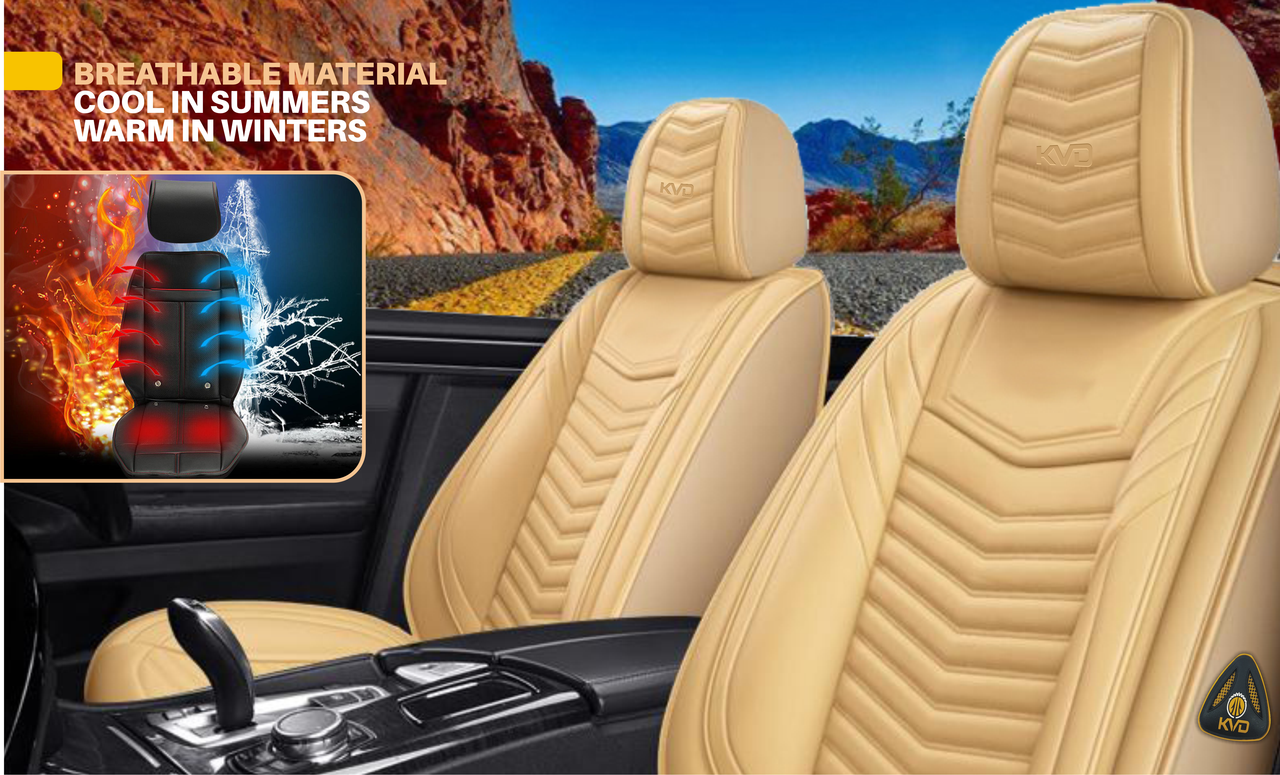 ** Breathable Material Cools In Summer And Warms in Winter **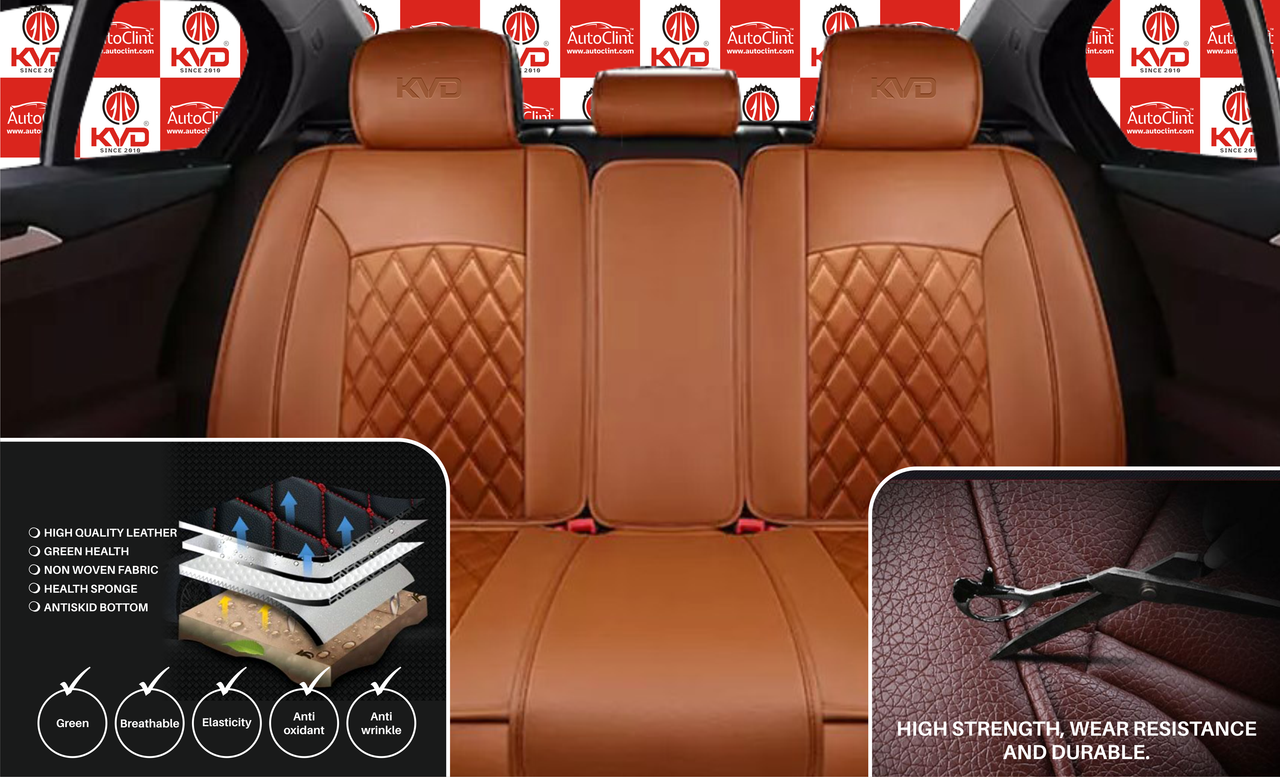 ** High Strength Tear Resistance **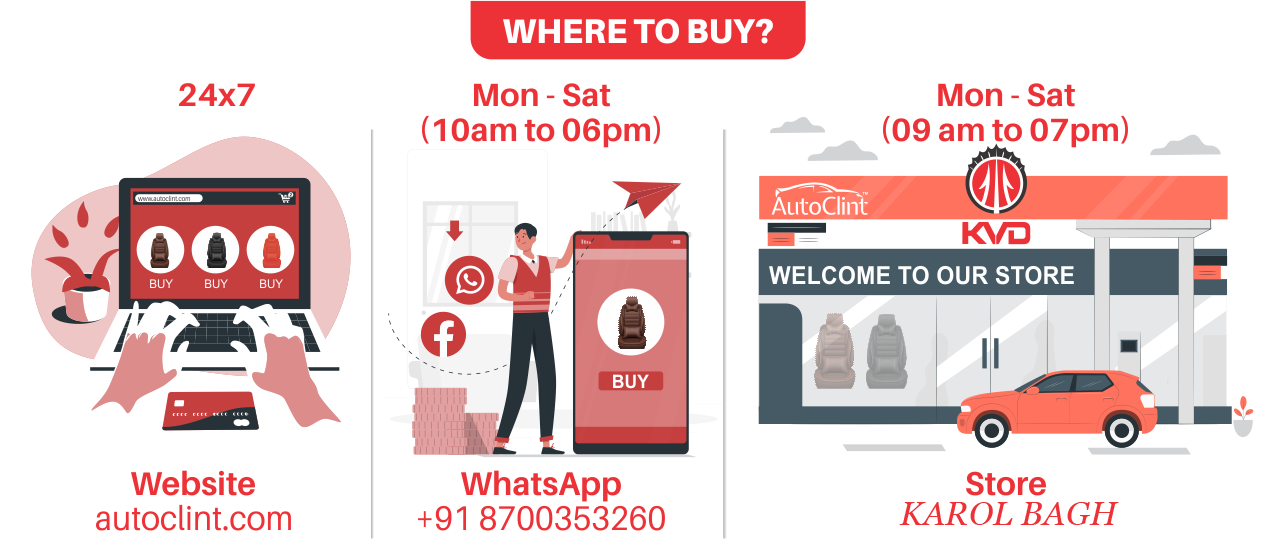 Benefits (simply clear).
It is full Bucket seat cover which manufactured from original pattern of your car seats so the fiting of the seat cover will be like skin on your body which means 100% fitment guaranteed.
Because we know our quality is best enough to lasts year ahead that's why we are the first mover in the market who provides 5 year warranty on leather peel off and colour faid which is the only problem in seat covers and you will also get bill and warranty card along with your seat cover and instruction to claim warranty.
Our all seats covers are manufactured from Japanese machinery that involves highly skilled labor with great craftsmanship and we always use 20mm high density branded foam and nylon thread in our seat covers for durability.
Let us give you one more reason.
Imagine you go to a party, wedding, hangouts or etc, and you have a guest inside your car no matter how your car looks from outside but at the moment your guest enters your car they feel like they have entered in your second home and what impression you are throwing to them by letting them entered in home whose walled are cracked and feeling off so change your seat covers today and renovate your second home which is your car and increase your social value, impress them with a stylish home again which is your car and even like new home needs paint on walls just like that your new car seats also need stylish seat covers.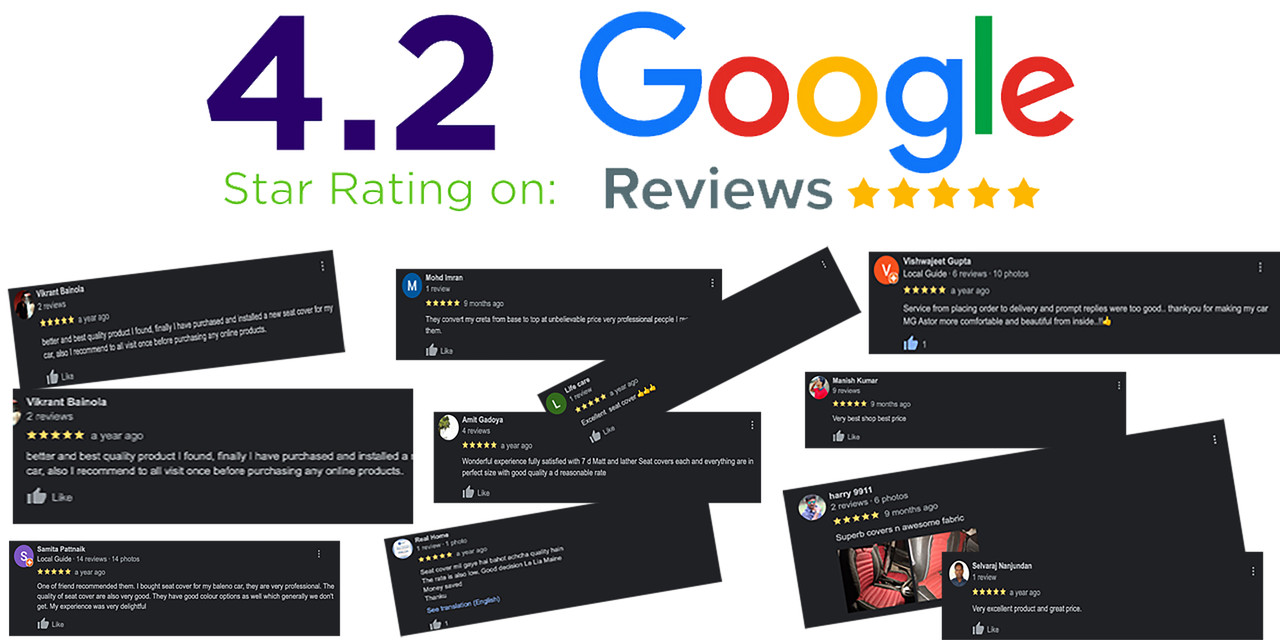 Frequently Asked Questions ( FAQS )
Q. I HAVE DIFFERENT TYPE OF CAR SEATS AS SHOWN IN PICTURES HOW IT CAN BE FIT ????
A. THE DESIGNS SHOWN IN THE PICTURES IS FOR DEMOSTRATION PURPOSE ONCE YOU PLACE AN ORDER OUR TEAM WILL CONTACT YOU TO CONFIRM YOUR CAR VARIANT AND SEND THE SEAT COVER ACCORDINGLY.
Q. THERE ARE SO MANY VARIANTS IN MY CAR HOW CAN YOU SEND SEAT COVER SPECIFICALLY FOR MY CAR VARIANT ????
-AS MENTIONED IN QUESTION NO.1 WE KNOW THAT THERE ARE SO MANY VARIANTS IN YOUR CAR MODEL THAT'S WHY AFTER PLACING YOUR ORDER WITHIN 24 HOURS WE WILL CONTACT YOU TO CONFIRM YOUR CAR VARIANT AND SEND THE SEAT COVER SPECIFICALLY AS PER YOUR CAR VARIANT ONLY.
Q. HOW CAN I CHOOSE COLOR OF SEAT COVER ????
-YOU WILL GET THE COLOR SHOWN IN THE FIRST PRODUCT IMAGE AND MENTIONED IN PRODUCT TITLE IF YOU WANT SOME OTHER COLOR THEN SEARCH OUR STORE OR CONTACT OUR CUSTOMER CARE NUMBER FOR PRODUCT LINK.
Q. WHO WILL FIT THE SEAT COVERS ????
- FOR FITTING YOU HAVE TO APPROACH YOUR LOCAL MARKET CAR ACCESSORIES SHOP ANY CAR ACCESSORIES PEOPLE CAN FIT THAT SEAT COVER, EVEN YOU CAN GOOGLE "CAR ACCESSORIES SHOPS NEAR ME" THEY WILL FIT THE SEAT COVERS ON YOUR BEHALF AND CHARGE YOU 300 TO 700 AS PER YOUR CAR MODEL.
Q. HOW MANY TYPES OF SEAT COVER ARE THERE IN MARKETS ????
- THERE ARE BASICALLY TWO TYPES OF SEAT COVERS AVAILABLE IN MARKET WHICH IS SEMI BUCKET AND FULL BUCKET, SEMI BUCKET SEAT COVERS MANUFACTURED FROM MEASUREMENT IDEA FOR FAST AND CHEAP PRODUCTION WHICH PROVIDES 70% FITTING IN OTHER HAND FULL BUCKET SEAT COVER MANUFACTURED FROM PROPER ORIGINAL PATTERNS OF YOUR CAR DUE TO WHICH YOU GET 100% ACCURATE FITTING GURANTEED AND THE GOOD NEWS IS THAT OUR ALL SEAT COVERS ARE FULL BUCKET.
---
We Also Recommend
---